Version 7 User's Guide

1. Insert the CD ROM into your CD Drive and allow the program to autorun.

<![if !vml]>

<![endif]>
[If after a minute auto-run has not begun, go to "My Computer" find D:\ the CD ROM and RIGHT CLICK the icon, then select EXPLORE. Once the CD is open locate the CWautorun.exe icon and double click it.]
2. Next, accept the license agreement and click next.
<![if !vml]>

<![endif]><![if !vml]>

<![endif]>

3. Enter your name and company name and select install. <![if !vml]>

<![endif]>

…When prompted click finish.
<![if !vml]>

<![endif]>
With 64 bit operating systems you will be prompted to install 64 bit modules.
<![if !vml]>

<![endif]>
…If prompted click install.
<![if !vml]>

<![endif]>
<![if !vml]>

<![endif]>

To run just double click on the red icon.
[username and password on CD jacket]
Need Troubleshooting?: Quick fix for 'error 339'
- - - - - - - - - - - - - - - - - - - - - - - - - - - -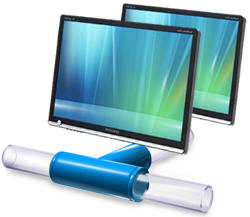 CheckWriter Network Edition
CheckWriter Duplex Edition
or
CheckWriter Enterprise Edition

ONLY


Please follow these additional directions below:

1
. Install a copy of the software on each client machine where CheckWriter™ will be used and test the software by creating a sample record on each terminal. Next, print a test record from each terminal to confirm the software is properly installed and functioning.
2
. Next, locate the database file 'cw50.mdb' installed in C:\Program Files\CheckWriter6. With CheckWriter™ closed, right click on this 'cw50.mdb' file and select 'Copy'. Next, paste this file to a shared server drive or other common folder where universal read and write permissions are granted to all users.
3
. Once you have located the database on the server or in a central location on the network, open each copy of CheckWriter™ and go to the File Menu, then Options and map each machine to the 'cw50.mdb' file, click OK and close – then reopen CheckWriter™. Once this is complete, print the test record and move to the next terminal until all have been mapped and tested.
CheckWriter™ is trademark product from yourfavorite.com.
© Copyright 1996-2012 All Rights Reserved.